Fuel System Installation & Maintenance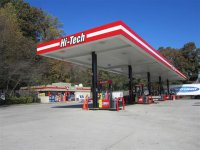 Since 1954, Estes Equipment Company has been providing installation and repair services to our customers in the petroleum industry.
Our team of expert technicians and installers are capable of handling any fuel system project from initial design to final completion, including providing ongoing maintenance after your project is complete.
---
Installation & Repair Services:
Fuel Island Canopies & Awnings
Point-of-Sale Cash Registers
Environmental / Remediation Services
Cathodic Protection
Tank Cleaning
EVR systems and Training
Convenient Store Construction
CNG Fueling Equipment
Above Ground Storage Tanks
Emergency Generator Control Systems
Fleet Fueling
CNG (Compressed Natural Gas)
---
Ready to Get Started?
Because of our team of certified technicians and long-established relationships with the best manufacturers in the industry, you can rest assured that by trusting your business to Estes Equipment Company, your new fuel system will be properly installed and maintained. Estes Equipment has two office location to serve our customers, one in Chattanooga, TN and one in Birmingham, AL.