Government Fueling Systems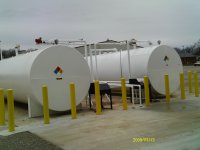 Fuel Fueling System Sales, Installation, and Service
The Government Division of Estes Equipment Company specializes in serving the specialized fueling needs of local municipalities, state or federal governments, and other government agencies that operate a fleet of vehicles or equipment. With over 60 years of experience in the petroleum industry, our in-house experts have the knowledge to help you design, source, install, and maintain every aspect of your fuel system.
---
What Can Estes Equipment Do for You?
Fuel Island Canopies
24/7/365 On-Call Technicians
---
Contact Estes Equipment Today!
If your municipality or agency is planning to install a new fleet fueling system or is planning to update an existing fuel system, contact Estes Equipment today to see how we can help you! Our services are available to government entities throughout the Southeastern United States and we currently have two office locations to serve our customers, one in Chattanooga, TN and one in Birmingham, AL.